Community Service Biography
Professional Experience
Mrs. Arámbula earned a Bachelor and Master's Degree in Business Administration.  As Marketing Director of the Government Advertising Division for the Daily Journal Corporation responsibilities include oversight of statewide and regional multi-media and multilingual public awareness advertising campaigns.  She joined the California Newspaper Service Bureau in 1987.  She continued with the company after it was purchased by the Daily Journal in 1990.  She has led the statewide sales team since 1995.
Community Organizing 
Having helped to lead community organizing efforts with ¡Viva! A Latina/o LGBT Arts Organization and LGPLAN, (Latina/o Lesbian and Gay Professional Alliance Network), in 2003 and 2004 she produced the Latino LGBT Pride Festival held at MacArthur and Echo Park, respectively.
In 2005, she co-founded and served a six-year term as Executive Vice President of Honor PAC (Political Action Committee), which advocates for Latina/o LGBT Empowerment through endorsement of candidates for elective office and ballot initiatives. Fellow co-founders include Insurance Commissioner Ricardo Lara and LACCD Trustee David Vela.
In 2006, she was elected by voters of the 49th Assembly District to the County of Los Angeles Democratic Central Committee.  In 2007, she was designated Democrat of the Year for the Assembly District.
In 2008, Mrs. Arámbula was recognized by Adelante Magazine as a pivotal community leader for the Latino LGBTQ community. In the fall of 2008, she coordinated campaign efforts for Honor PAC's "No on Proposition 8" campaign including operating the East Los Angeles campaign office.
The Prop 8 campaign removed marriage rights for same gender couples from the California Constitution by a slim margin.  In response, Ms. Arámbula co-founded and served for 10 years as the Advisory Board President of a non-profit community-based organization, the Latino Equality Alliance (LEA), through which community leaders work in collaboration to address LGBTQ education, economic, housing, and racial justice issues in the Latino community including family acceptance, immigration, marriage equality and other public policy and legislative issues. Advocacy methods include community organizing, leadership development, media relations and public education programs.
Leadership
In 2011, the Liberty Hill Foundation named Ari a "Leader to Watch" and the Stonewall Democrats named LEA  "Organization of the Year." In 2012, the California LGBT Legislative Caucus recognized LEA for its LGBT racial justice work and same year Ms. Arámbula was invited by the Speaker of the California Assembly, John A. Perez  a liaison to the White House representing the Latino LGBT community.
She was named to the "2013 Hot List" by the premier LGBT news source, Frontiers Magazine. Additionally, in 2013, the grassroots LGBT advocacy group Marriage Equality USA recognized the Latino Equality Alliance as a vital "Community Partner" to its community organizing and public awareness efforts during the No on Prop 8 campaign.
National Impact
Ari also serves on the Board Directors for the National Committee to Preserve Social Security and Medicare Foundation (NCPSSM). In 2013-15, on behalf of NCPSSM she participated in 15 community leader and 15 town hall events through-out California highlighting impediments to access of federal benefits for senior LGBT individuals, widowers and/or or surviving children who are minors.
The NCPSSM "Know Your Rights" program included outreach for beneficiaries who identify as ethnic minorities and for whom marriage benefits may improve their quality of life. In the wake of the 2013 U.S. Supreme Court's decision effectively overturned the Prop 8 ballot initiative, presentations on Social Security benefits for married same sex couples included an information session at the California State Capital to educate legislators and their staff on the issue and engage their assistance in decimating access information to their constituents.
Community Based Advocacy
In 2014, she was nominated for a Latino LGBT Hero Award by Spanish LGBT media.
In October 2015, the Latino Equality Alliance in collaboration with the Los Angeles LGBT Center opened "Mi Centro" the first LGBTQ community service center in Boyle Heights serving the densely Latino and low-income communities of East and South Los Angeles.
From 2016-2018 LEA served as Co-Chair of the Boyle Heights Health Happens in Schools Campaign, which was part of The California Endowment Building Healthy Communities statewide 10-year initiative advocating for policy and equity-based investments to benefit students that need the help the most including LGBT youth who are low-income, English-learners and/or foster youth.
In 2016, Ari was elected  Programming Chair by the Stonewall Democratic Club.  In addition to her role on the steering committee, candidate endorsement panels, and communications team support she scheduled the keynote speakers for each membership meeting.
Community Engagement
In 2017, Ari was honored by Latino Equality Alliance's fiscal sponsor, Community Partners, as an "exemplary organization of integrity that is dedicated to advancing the civil rights of the community it serves" with the Albert R. Rodriguez Civic Legacy Honor.
In January 2019, Mrs. Arambula was voted by readers of the Los Angeles LGBT Blade newspaper first runner-up in the Best of LGBT L.A. as most committed community activist. In June of the same year, Ari was recognized by Los Angeles County Supervisor Hilda Solis for years of advocacy for the LGBTQ community within the First Supervisorial District.  
Public Service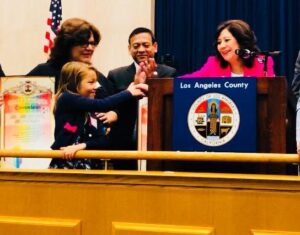 Ari currently serves on the Health Innovation Community Partnership (HICP), coordinated by the LAC+USC Medical Center Foundation and The Wellness Center Los Angeles, informing the community development efforts on and near the Medical Campus including economic, housing, and social services. She served on the Community Engagement Committee for the General Hospital Reuse Study, investigating how The Historic General Hospital may be repurposed for affordable housing and other public service opportunities. The HICP and hospital Reuse Study is championed by LA County Supervisor Hilda Solis. 
Ari represents the Latino Equality Alliance on the EASTSIDE Leads Steering Committee, which advocates for community issues of concern on Los Angeles County's eastside communities. Issues include housing, rising rents, eviction, school policing and other forms of structural racism.
In the fall of 2021, Ari was invited to join the endorsement interview panel for Avance Democratic Club.  She participated in endorsement of state, city and judicial candidates. In April 2022, Ari was appointed by Los Angeles County District Attorney George Gascón to serve on the DA's first LGBTQ Advisory Board.
On August 5, 2022, Mrs. Ari Gutierrez Arambula became a candidate for Alhambra City Council, District 1, when her nomination documents were verified and accepted by the Los Angeles County Registrar Recorder. Her candidacy has been endorsed by the District 1 residents in support of an Old Town Alhambra, Alhambra Democratic Club, Stonewall Democratic Club, and the Avance Democratic Club.
Personal Information
Ari was born in San Antonio but raised in the border towns of Laredo, Texas and Nuevo Laredo, Mexico – an experience that contributes to a diverse and multi-cultural worldview. Her family owned the Laredo Beauty School where she attended during her high school summer breaks. She earned her cosmetology license in 1980 and began working as a hairstylist while still in high school and worked her way through college.  She graduated from Holmes High School (1981) and St. Mary's University (1985) in San Antonio, Texas, where extended family still resides.
In the Los Angeles since 1987, Ari and her spouse, Connie, together since 2000, married in 2014 after Prop 8 was essentially overturned by the US Supreme Court. In 2004, they bought their home in Alhambra, CA where they still live with their daughter, Emma, who is 11 years old and attends a dual language Catholic school in Alhambra.